Twenty years ago, no one knew what crossfunctional fitness was. Today it is one of the most popular and developing trends in the fitness industry.
Crossfunctional fitness is a training complex with exercises of different intensities. The basis uses elements of training from other sports (gymnastics, aerobics, weightlifting). Currently, hundreds of thousands of people around the world are practicing this sport. It also received its development as an element of training in various specialized units (security, law enforcement agencies, rescuers, etc.).
Crossfunctional fitness is about changing high-intensity movements performed at different time intervals. Crossfunctional training lasts one hour. During this time, several muscle groups work at once.
Crossfunctional fitness includes gymnastic activities, cardio load, and work with free weights.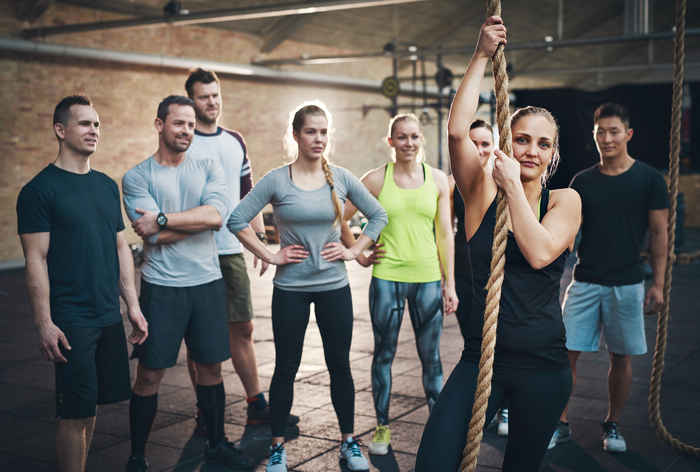 Main benefits for health and body
Crossfunctional fitness is perfect for creating a slender, sculpted body.
Main pros:
Activation and improvement of metabolism;
Fat burning through regular, intense activities;
Improving the general body tone;
Improved coordination and ability to control your body!
But keep in mind that crossfunctional workout is a high-intensity load on the heart and blood vessels. There is also a risk of injury due to the intensity of training. Experts recommend consulting a doctor before trying.
What is the training process?
Cardio loads (based on aerobic activities in cross-functional workouts) are metabolic. This type of activity promotes the development of the cardiovascular system and the overall endurance of the athlete. After all, when they are performed, the heartbeat is activated, the pulse rate increases, and blood flow is activated. Classes with this type of load contribute to:
A faster process of fat burning and the loss of extra pounds (subject to the principles of proper nutrition);
Increase in lung volume;
Strengthening the cardiovascular system;
Reducing the risk of developing heart disease;
Acceleration of metabolism in the body!
Gymnastics (exercises without weights) allows you to develop flexibility, a sense of balance, and coordination. The main elements of this section of training include: rope (develops arms and endurance), rings (pull-up exercises, back muscles and shoulders work), horizontal bars, bars, squats and lunges, and burpees. All exercises are performed without additional weights, only the weight of your own body.
Weightlifting (power development using sports equipment – kettlebells, barbells, etc.) requires snatch and jerk skills. This section of activities develops strength endurance, increases muscle volume, increases concentration, and develops stability and balance.
How to start crossfunctional fitness training?
There is a rich variety of cross-functional fitness methods and training programs. But it is best to start under the guidance of an experienced trainer to work out the technique for performing certain activities. After all, uncontrolled and unsystematic training can lead to the following problem situations:
Your body can adapt to a series of the same loads and stop responding to them, which will stop the process of muscle growth and increase in strength. In cross-functional fitness, alternation and a gradual increase in loads are important.
Novice crossfunctional fitness lovers get injured, which is caused by the fact that the exercise technique has not been worked out or the load for an unprepared body is too high. Also, injuries can be caused by an insufficient degree of body coordination.
Most popular crossfunctional fitness exercises:
Burpee;
Push-ups;
Twisting;
Squats;
Hanging leg raises on the bar;
Jumping on the pedestal;
Boom ejections;
Rope;
Weights;
Frame for cross-functional activities!
These are only the general ones since exercise list is much wider.
What do the professionals say?
Cross-functional workout is a choice for those who have become bored in a regular sports club, who want variety in training, and who get noticeable results from training. A person with any training and sports background can start exercising, all exercises are adapted to the current abilities and capabilities of a person, and the load increases smoothly along with the acquisition of the necessary experience.
For training, you will need sneakers, and comfortable, non-restricting clothing. crossfunctional fitness does not imply a classic exercise cycle, so each person can build a schedule based on their employment and need for physical activity. We recommend exercising three to four times weekly for the most effective training.
Crossfunctional fitness comprehensively develops a person: from improving overall well-being to impressive strength indicators and a beautiful athletic physique. The training process is built in the same way for men and women.
But regardless of gender and age, any exercise for one person can be difficult and, for another – a trifle. Here the flexibility of cross-functional programs comes to the rescue – the trainer easily scales the same exercise to a person's current capabilities. Do sports and enjoy!